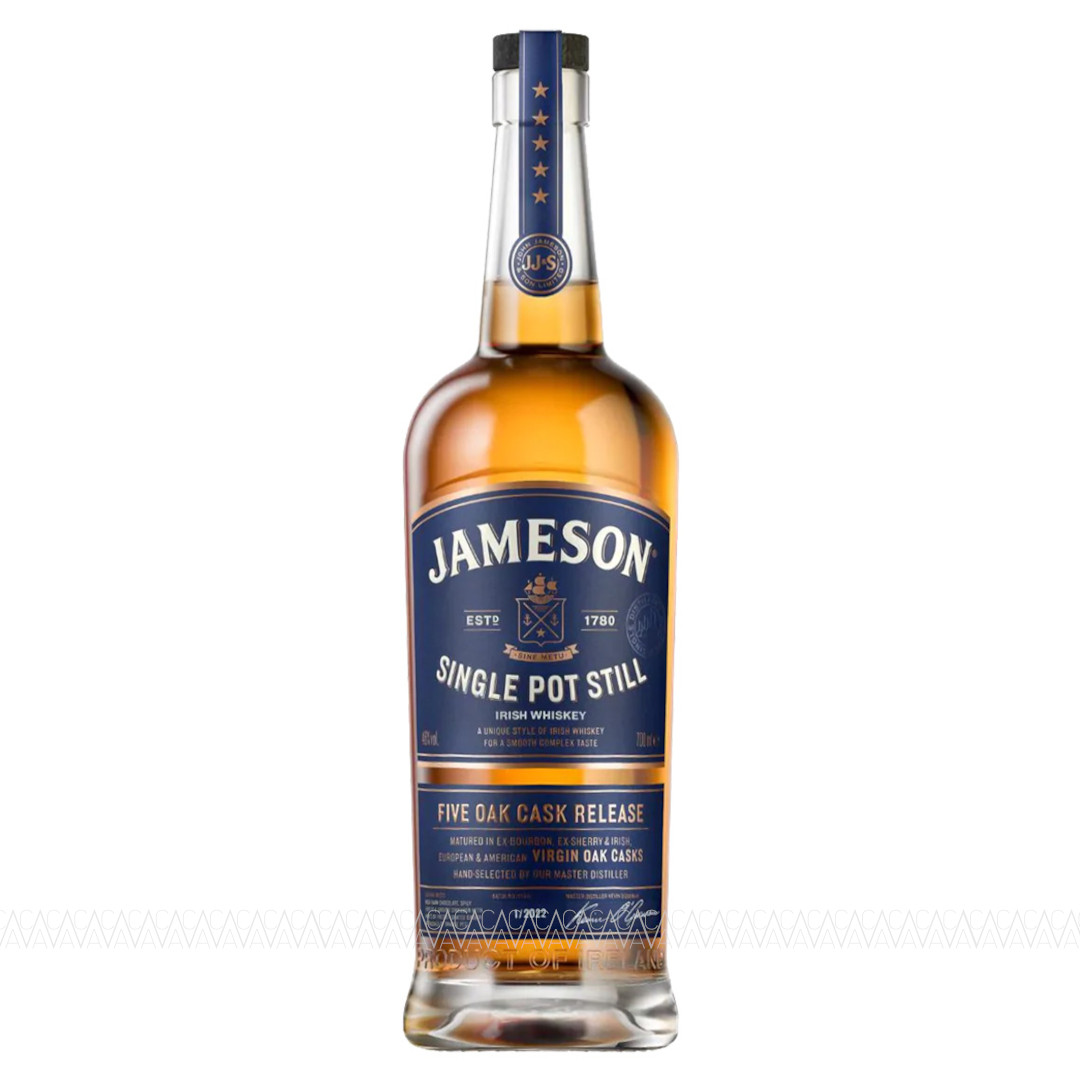 NEW
Jameson Single Pot Still Irish Whiskey 700ml
Jameson Single Pot Still is a celebration of the traditional style of Irish Whiskey making after which it is named. Crafted from a mashbill of malted and unmalted barley, it is then triple distilled for a rich, unmistakable silkiness.
This Five Oak Cask Release is matured in a combination of three different virgin oak (Irish, European & American), in addition to ex-Bourbon and ex-Sherry casks. The finished result is a whiskey that is equal parts complex and smooth.
Single pot still is a unique style of whiskey produced from malted and unmalted barley and distilled in copper pot stills three times.
Aroma: Complete aromatic palette initially releasing aromas of woody spices such as cinnamon and nutmeg, which are accompanied by a rich aroma of charred oak, sweet honeycomb and salted caramel. Then the rich citrus aromas are supplemented by notes of creamy milk chocolate, butterscotch and vanilla, while on the finish sweet spices accompany the earthy spice notes as well as ripe fruits.
Taste: Rich dark chocolate notes, gracefully meet with those of spicy caramel and ground cinnamon, accompanied by hints of freshly grated ginger and orange peel. The combination of fresh and charred oak wood adds sweet and smoky notes with smooth tannins, which harmoniously complement the creamy texture of the pot still whiskey.
Aftertaste: Soft aftertaste of fruits which slowly gives way to sweet spices and oak to remain on the palette until the end.
Every bottle is marked with the batch/year that it was produced on. ABV: 46%.
Stock:

In Stock

Model:

100-110-2037